Creating your account
Look out for an email containing details on how to create you account. There are 3 simple steps
Download the app in the relevant app store for your device.
Open the app and tap "No log in? Tap here to register"
Follow the on screen instuctions to verify you account and creat your username and password.
Onboarding
Now it's time to confirm you details, personalise your app and set a goal:
Home
Navigate around the app by using the home page and menu at the bottom of the app:
My sessions
Now it is time to book a session. Go to my sessions, click book a session and then select a date and time that works for you. This will book you in for your initial assessment and all subsequent sessions but don't worry you can edit a session up to 48hrs before the start date and time.
Weekly checklist
Your checklist keeps you on track with things to do that week to stay on top of your course. The checklist will change regularly. You can tick off the tasks you have done and navigate to the relevant pages.
My online modules
My online modules are where you can learn more to support you on your health & wellbeing journey. New modules are unlocked on a regular basis and once unlocked you can open and complete. If you have a preferred audio language you can choose this from the options in the dropdown.
Resources – videos, blogs, top tips and recipes – all day every day
Resources is where you can access videos, articles, and websites all day every day. Not only can you view and filter all resources, but you can mark your favourite ones using the heart icon and we have even suggested some resources tailored specifically to you based on the information you provided in onboarding.
My health tracker
View your health tracker and add readings for all items. You can add readings for past dates and will be prompted when your weekly weight reading is due.
You can also personalise and sync Wellbeing way with your native device (iOS only) so that you can pull all your health tracker readings from other apps (such as Fitbit) and smart devices (i.e. Apple watch). Just make sure your other apps and devices are syncing with your native app to ensure all your information shows on Wellbeing way.
My goals
In the My goals section you can create health tracker and non-health tracker goals. Health tracker goals like weight or steps will autocomplete as soon as you enter a reading that achieves the goal. Non-health tracker goals can be manually marked as complete as soon as you achieve them.
Community
Join in the community by creating new posts and sharing your experience. You can follow discussions that interest you to stay on top of the latest posts as well as like posts that you have found helpful or insightful.
Notifications
In the notifications area of the menu, you can view all notifications. We will send you notifications to help keep you updated and on track, please select allow notifications if asked and keep your notifications turned on.
My challenges
Choose a challenge from the physical activity, Diet or Other category. Tap "Select challenge" to start and then once complete mark it as completed. You can share your achievements to the community and keep track of all your badges in the "My badges" area.
EXi
We have partnered with EXi to allow you access to exercise support tailored specifically to your needs. Tap the "Moving more with EXi" dashboard tile, review the privacy notice and then check your emails for an email to get you set-up. Simply download EXi and follow the steps in the email. You can then access EXi directly from your Wellbeing way app.
More
From the more menu you can view your profile, edit your details, and edit your metric preferences. Turn on/off biometric login, update your accessibility settings (font size and colour scheme), view the Xyla Health and Wellbeing website, privacy policy and frequently asked questions.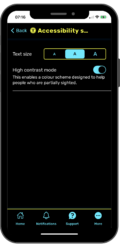 Frequently asked questions
The NHS Digital Weight Management Programme lasts 12 weeks.
When will I gain access to the app?
You will gain access to the app as soon as you are invited through either a text or an email.
When will my app start to unlock features?
As soon as you complete registration and onboarding, your app will begin to unlock various features.
How many coaching sessions will I have?
You will have 6 15-minute coaching sessions over the duration of your course. These will be by telephone.
You can book sessions on the app through the coach sessions page.
How do I reschedule a session
If you need to reschedule a session, you can do so through completing the steps shown in this video.
What happens after I complete the course?
You will be offboarded from the app on completion of your course.